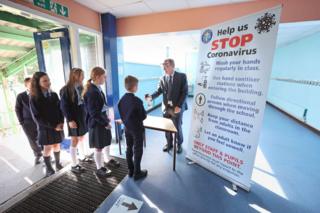 Ministers are being accused of "sticking their fingers in their ears" over the possibility that next year's public exams may have to be cancelled.
The National Education Union says higher Covid-19 infection rates and more pupils being sent home, makes holding exams unfair and less likely.
It argues that as the situation develops, using a system of centre assessed grades may become inevitable.
The government is considering a slight delay GCSE and A-levels next summer.
But NEU joint general secretary Mary Bousted said this was a position that was becoming "increasingly untenable" and teachers urgently needed to know what evidence of pupil achievement they needed to collect so fair assessments could be made.
Her comments come a day after national attendance figures revealed one in six secondary schools were not fully open to all pupils last week, with 16%…


Source news bbc.com, click here to read the full news.