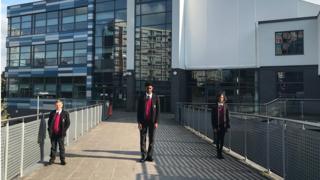 A major research project to track coronavirus infections in schools and help head teachers prevent disruption is being piloted in Bristol.
The study aims to understand exactly how pupils transmit the virus, whether or not they are symptomatic.
The University of Bristol study will saliva-test 4,000 pupils and 1,000 staff from schools across the city once a month for six months.
It should provide vital information on how schools should deal with outbreaks.
'Deep cleans'
It comes as some schools across the country have sent groups of pupils home to self-isolate after positive cases were found.
Some have had to close temporarily for deep cleaning in an attempt to manage the risks.
It is just a week or so since schools re-opened after a sixth-month gap due to lockdown.
Experts say children are…


Source news bbc.com, click here to read the full news.