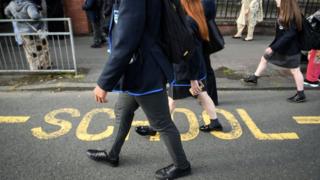 More than 100,000 pupils in Scotland are absent from school with attendance down to 84.5%, according to Scottish government figures.
Data collected from local authorities shows that more than 15.5% pupils were off school last Friday.
However, only 22,821 of the absences are recorded as "Covid-19 related".
The Scottish government said it was common for other viral infections to circulate after a "prolonged break" away from school.
Scotland's largest teaching union, the EIS, told BBC Scotland it believed many parents were "erring on the side of caution" and keeping children who had cold symptoms off school.
Pupils in Scotland began returning to school on 11 August after being away since March.
Provisional figures from 28 August show that 84.5% of pupils in Scottish schools were present, down from a confirmed 95.8% attendance on 17 August.


Source news bbc.com, click here to read the full news.