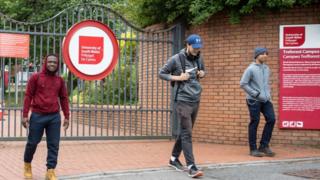 Universities in the UK are being urged to scrap plans for face-to-face teaching until Christmas in order to prevent a second wave of coronavirus.
Academics' union UCU said more than a million students moving around the country was "a recipe for disaster".
But university bosses say they have worked hard to plan for a safe return to all aspects of student life.
It comes as daily recorded cases of coronavirus in the UK reached 1,715 in 24 hours, the highest since early June.
Case numbers began edging up again in the UK in July, after falling in June – but are still much lower than the 5,000 new cases a day there were in April, at the peak of the epidemic.
Experts say the increase in testing over recent weeks means more people with the virus are being detected.
What's the union saying?
The UCU's Jo Grady says having tens of thousands of students heading…


Source news bbc.com, click here to read the full news.