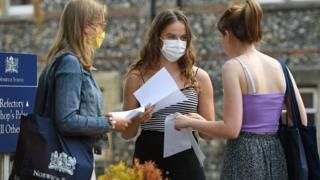 Labour has called on ministers to act immediately to sort out an "exams fiasco" in England and stop thousands of A-level students being "betrayed".
It said it was unacceptable that a "flawed system" had led to 280,000 pupils having their marks downgraded.
Sir Keir Starmer said ministers must follow the lead of Scotland and allow teacher assessed marks to be accepted.
Ministers say this risks "grade inflation" and disadvantaged pupils had not been disproportionately affected.
But some Tory MPs have challenged the fairness of how grades have been decided.
Schools North East, representing over 1,100 schools in the north east of England, also backed the use of teachers' predictions.


Source news bbc.com, click here to read the full news.