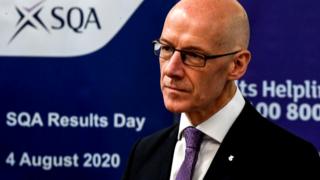 Education Secretary John Swinney could face a no-confidence vote at Holyrood over the exam grades controversy.
Scottish Labour said it would table a motion calling for his resignation after a suggestion some pupils may not get appeal results until the end of May 2021.
The Scottish Conservatives said they would back the motion.
Mr Swinney has rejected claims that pupils from less well-off areas were discriminated against.
The Scottish government has faced criticism over the grading system that replaced the 2020 exams which were cancelled because of the coronavirus pandemic.
The system, implemented by the Scottish Qualifications Authority (SQA) and approved by the government, asked for teacher estimates of students'…


Source news bbc.com, click here to read the full news.