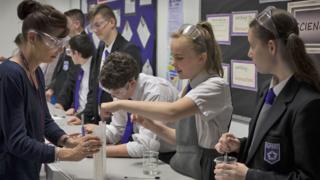 The school time lost because of the pandemic could harm the UK economy for the next 65 years, research published by the Royal Society suggests.
The study says the disruption to lessons will have a negative impact on the future skills of the workforce.
The research group, including academics from Cambridge and Bristol universities, says it will cost billions in a reduced growth rate.
Getting pupils back to school must be a priority, says the study.
The report is from an inter-disciplinary group of experts, convened by the Royal Society to measure the long-term impact of the Covid-19 pandemic.
It says there is a "huge base of evidence" showing that earnings are linked to education and…


Source news bbc.com, click here to read the full news.