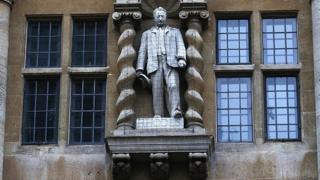 The controversial statue of Cecil Rhodes is going to stay in place outside an Oxford college until at least next year.
Protestors had called for the removal of Oriel College's statue of the Victorian imperialist.
Governors of the college announced in June they also wanted to see the statue taken down.
A commission set up by the college to examine the statue's future will now report back in January 2021.
The inquiry group will include broadcaster Zeinab Badawi, former Conservative shadow culture secretary Peter Ainsworth and local Labour councillor Shaista Aziz.
On Tuesday, the college published more details of the statue's future fate.
This suggests that nothing…


Source news bbc.com, click here to read the full news.