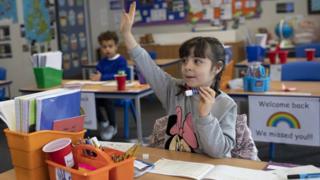 Pupils will not have to physically distance when Scotland's schools return in August, but teachers will, new advice to the government has suggested.
Ministers have set a target for schools to reopen in full from 11 August.
A new report from advisers said "no distancing" should be required between pupils in primary or secondary schools.
But it said staff should stay 2m (6ft 6in) apart from each other, and put on face coverings when coming into closer contact with children.
It is also recommended that "higher risk" group activities like assemblies, choirs and gym and drama classes should not be reintroduced immediately.
Education Secretary John Swinney said the advice would "inform the way schools can…


Source news bbc.com, click here to read the full news.