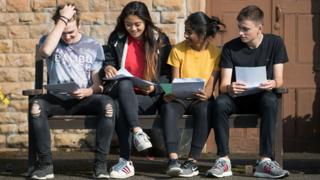 Young people in England risk missing out on the grades they deserve, due to the system used for calculating results after exams were cancelled, MPs have warned.
Disadvantaged and ethnic minority pupils face particular risks from the possibility of unconscious bias, said the Commons Education Committee.
This year, teachers will predict pupils' GCSE and A-level grades.
Exam boards then moderate the estimated grades and issue the final results.
This statistical check, designed by England's exams regulator, Ofqual, includes the historic results of pupils at each school, the prior attainment of students, and statistical expectations about grade distribution for each subject.
Similar systems are being used in Scotland, Wales and Northern Ireland.
The aim of this standardisation model is to ensure results are broadly in line with previous years – and guard against a…


Source news bbc.com, click here to read the full news.