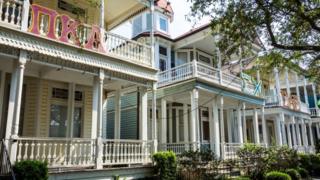 Fraternities and sororities form a central part of the university experience for many US students.
But a coronavirus outbreak at the University of Washington in Seattle has raised questions about the pressures the pandemic places on the organisations.
At least 128 students living in fraternity accommodation at the university have tested positive for Covid-19, as well as nine of their close contacts. This number could rise, as more than 1,300 tests have been conducted during the past week.
So what challenges does coronavirus pose for fraternities and sororities – collectively known as "the Greek life" – and how are they preparing for the new academic year?
What outbreaks have there been?
A…


Source news bbc.com, click here to read the full news.