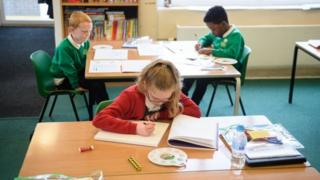 Parents in England who do not send their children back to school in September will face fines, says the Education Secretary Gavin Williamson.
"Unless there's a good reason for absence… we'd be imposing fines on families," he said.
But head teachers said fining parents was not the "right approach" at first.
"There will be many frightened and anxious parents out there," said Geoff Barton, leader of the ASCL head teachers' union.
Head teachers, who decide whether absences are authorised, are more likely to want to build up parents' trust in a safe return, said Mr Barton.
Mr Williamson, speaking on LBC, said penalty fines for non-attendance would be part of school being compulsory again next term, unless there…


Source news bbc.com, click here to read the full news.