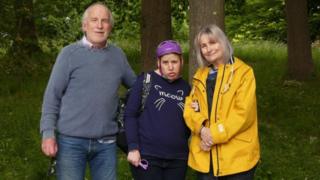 What's it like to get older but to still have to look after your child into their own adulthood?
And during the lockdown, how does it feel to provide round-the-clock care without any outside help?
"Nick and I looked at each other and said: 'We can't cope,'" said Jill Fenton, about her and her husband's "daily struggle" looking after their daughter with severe learning disabilities.
"Even saying that was really helpful, because it's hard to admit you can't cope. But there are times when you can't," said Jill, from Bromley in south London.
Jill and Nick's daughter Amy usually lives in residential care, but when the lockdown began she was visiting them at home. Without access to carers or family, they have looked after her entirely on their own ever since.
"It's…


Source news bbc.com, click here to read the full news.