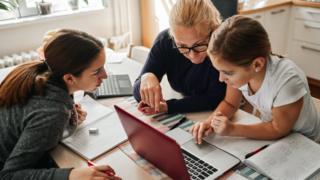 Children from wealthier families are spending more time each day studying in the coronavirus lockdown compared with the poorest, according to new research.
A survey of families in England suggests better-off children will have studied for around seven days more than their poorer peers by next month.
Children in the highest-income families spend six hours a day on education, but the poorest spend four and a half.
The government said it will do whatever it can to ensure no child falls behind.
The study of more than 4,000 families, carried out for the Institute for Fiscal Studies (IFS), found the gap in time spent on education activities was slightly bigger for primary age children than older pupils.
Whatever their income, more than half of parents said they were finding it hard to support their children learning at home.
Nearly two in three (64%) of…


Source news bbc.com, click here to read the full news.