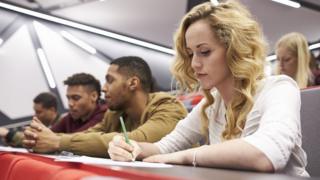 A student who gathered 330,000 signatures calling for a refund of university tuition fees says students are being "completely ignored".
Sophie Quinn's petition calls for a refund for teaching lost in the Covid-19 outbreak and lecturers' strikes.
Her claim was brought before the House of Commons Petitions Committee.
Universities UK told MPs universities were under "severe financial pressure" and paying refunds to students could "put some institutions at risk".
"Universities are doing all they can to make sure that students achieve the learning outcomes they need," president Julia Buckingham said.
Ms Quinn told an online session of the committee students were feeling "angry and let down" and had not got what they paid for.
"This whole year has been disrupted by strikes and the coronavirus," the University of Liverpool student told the committee.
She…


Source news bbc.com, click here to read the full news.