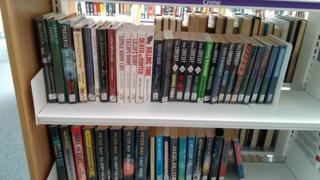 A well-meaning cleaner who took the opportunity to give a locked-down library a thorough clean re-shelved all of its books – in size order.
Staff at Newmarket Library, Suffolk, discovered the sloping tomes after the building underwent a deep clean.
James Powell, of Suffolk Libraries, said staff "saw the funny side" but it would take a "bit of time" to correct.
"It looks like libraries will be closed for a while so we'll have plenty of time to sort the books out", he said.
"The cleaner is lovely and does a great job in the library. It was an honest mistake and just one of those things so we would never want her to feel bad about it," he added.
A tweet by Krystal Vittles,…


Source news bbc.com, click here to read the full news.