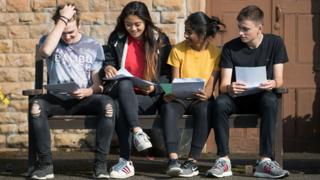 Teachers in England will be asked to assess the grades they think pupils would have achieved in cancelled GCSE and A-level exams.
This will be used by exam boards to decide results – along with a ranking by ability of pupils in each subject in a school, also judged by teachers.
This approach from the qualifications watchdog Ofqual will replace exams disrupted by the coronavirus outbreak.
Results days will be no later than originally planned and may be earlier.
"Our overriding aim in this is to be fair to students this summer and to make sure you are not disadvantaged," said Sally Collier, Ofqual's chief executive.
Paul Whiteman, leader of the National Association of Head Teachers, said there was no "perfect solution".
But he said the substitute plan was "pragmatic and the fairest approach to take in these exceptional circumstances".
In Scotland, grades will be…


Source news bbc.com, click here to read the full news.