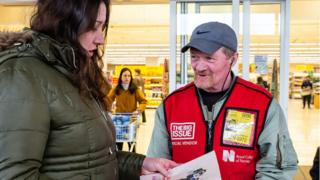 Big Issue sellers, forced off the streets by the coronavirus lockdown, are relying on emergency bailouts being provided by the magazine.
Lord Bird, founder of the magazine, which helps the homeless earn a living, says many have been left in a "parlous state" without an income.
He says sellers and the magazine are unable to get government support for lost earnings during the crisis.
So the Big Issue is giving sellers cash from online sales and subscriptions.
The ban on street selling has threatened to take away the regular earnings of its vendors.
"I genuinely don't know what I'm going to do, I really don't," says Robin Price, in Weston-Super-Mare, Somerset, who has been selling the magazine for 26 years.


Source news bbc.com, click here to read the full news.