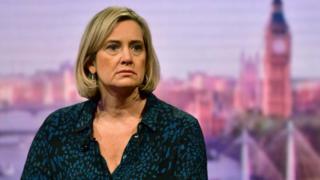 Former Home Secretary Amber Rudd says she had an invitation to speak at an Oxford University society pulled half an hour before she was due to appear.
Ms Rudd, who stepped down as an MP in December, was due to speak to the UN Women Oxford UK society on Thursday.
Following a vote of its committee, understood to relate to her role in the Windrush scandal, the invitation was pulled.
Ms Rudd said some students' treatment of her was "badly judged and rude".
She had been due to speak about UN Women's Draw A Line campaign and her experiences of being an MP and minister for women and equalities.
Ms Rudd urged students to "stop hiding and start engaging".
She resigned as home secretary in April 2018 after people living legally in the UK were detained and deported and…


Source news bbc.com, click here to read the full news.