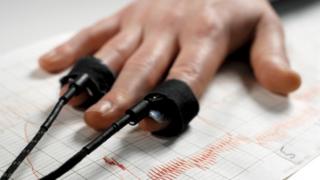 Domestic violence offenders in England and Wales could face compulsory lie-detector tests when released from prison under proposed new laws.
Those deemed at high risk of re-offending will be given regular polygraph tests to find out if they have breached release conditions.
The long-awaited Domestic Violence Bill will also specify that controlling a victim's finances can count as abuse.
Alleged abusers will also be banned from cross-examining victims in court.
Lie-detector tests – which work by measuring changes in heart rate, blood pressure, respiratory rate and sweat – are not 100% accurate.
But the Home Office said it was already using the tests to monitor high-risk sex offenders and had found them to be 89% accurate.
The government also plans to use lie-detector tests on convicted terrorists freed under licence.


Source news bbc.com, click here to read the full news.