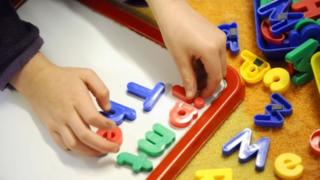 A report has found parents in England, Scotland and Wales are paying 5% more on childcare for under-twos than a year ago – and 4% more for two-year-olds.
Childcare now costs on average more than £130 per week for a part-time nursery place for a child under two, according to children's charity Coram.
It has called for reform and simplification of childcare system.
The government said it was increasing the rate it paid for free childcare provision, and creating more places.
The findings of Coram Family and Childcare's survey suggest that childcare costs are rising faster than price increases generally, with the Consumer Prices Index (CPI) measure of inflation standing at 1.8% in January.
The charity said its survey revealed the average weekly price of a part-time nursery place for a child under the age of two had risen to an average of £131.61, or more…


Source news bbc.com, click here to read the full news.