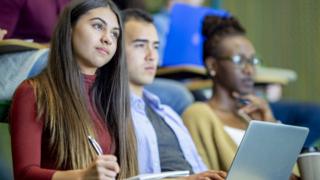 Academics at Oxford University want to scrap a £75 fee required to apply for postgraduate courses – arguing it is an "elitist" financial barrier.
The fee is not refundable – and an internal email suggests Oxford receives £2m from applications per year, mostly from those who have been rejected.
There are complaints the fee is "discriminatory" and putting off "excellent candidates".
But Oxford says a "growing number" of universities charge an application fee.
Michael Cassidy, of the university's department of earth sciences, said charging a fee for even applying reinforced an image of being "elitist and arrogant".
The campaign to stop Oxford's levying of application fees – separate from tuition fees – has been revealed by a higher education publication, Research Professional News.
Next month, the university's "congregation", its sovereign body, will…


Source news bbc.com, click here to read the full news.