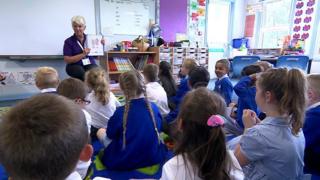 Making all pupils take part in religious education classes could see the Welsh Government taken to court for breaching human rights, a legal expert has warned.
Parents' right to withdraw their children from religion lessons will be removed under Wales' new curriculum.
But Sir Malcolm Evans said this could lead to parents taking legal action.
The Welsh Government insisted the curriculum would not breach human rights.
Currently parents are able to request their children do not take part in sex and religious education, under an opt-out arrangement.
But under the new curriculum, set to be rolled out in schools from September 2022, the lessons will be compulsory, regardless of parental objections.
Under the changes, Wales will become the first part…


Source news bbc.com, click here to read the full news.