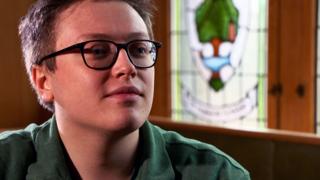 Law student Blair Anderson is "estranged" from his family, which means he has cut all ties and does not get the financial and emotional support most parents provide.
Blair says his relationship with them hit the rocks when he came out as gay at the age of 14 but it "completely broke down" when he was at university.
The 21-year-old says the stress of trying to support himself led to him dropping out of his course last year.
There are now calls for estranged students to be entitled to the same support as those who have experienced the care system.
Blair, from Kilsyth in North Lanarkshire, told BBC Scotland's The Nine: "I'm from a religious family and when I came out as gay I was told that wasn't an option.
"I was told that my parents would not have a gay…


Source news bbc.com, click here to read the full news.