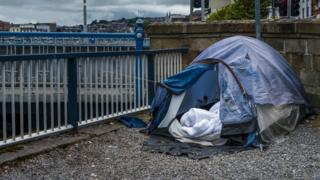 Some struggling families are being pushed into homelessness by failures in the very system designed to keep a roof over their heads, a watchdog says.
The Local Government Ombudsman found some local authorities in England were miscalculating housing benefit payments and then curtailing rights of appeal.
It upheld eight out of 10 of the hundreds of complaints it investigated about the benefit in 2018-19.
Town hall bosses said the report raised some important issues.
It also said the funding councils received to administrate housing benefit fell short of its true cost.
Michael King, the Local Government and Social Care Ombudsman, said: "Mistakes in benefit administration can only add to the pressures households face.
"A delay in processing an appeal later upheld can lead to rising rent arrears.
"Many of the people who complain to us face the threat of…


Source news bbc.com, click here to read the full news.