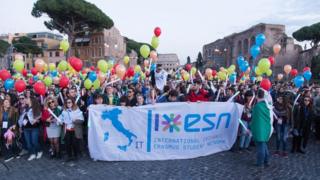 On Wednesday, MPs voted by 344 to 254 against a clause that would have required the government to negotiate continuing full membership of the Erasmus programme after Brexit.
The Erasmus scheme is a European Union (EU) programme that helps students study in other countries.
Currently, 53% of UK university students who study abroad do so through the scheme.
In 2017, 16,561 UK students participated in Erasmus, while 31,727 EU nationals came to the UK.
Erasmus is also involved in vocational training and work overseas, as well as with teachers who want to work or train abroad.
Liberal Democrat MP Layla Moran, who tabled the new clause to the Withdrawal…


Source news bbc.com, click here to read the full news.