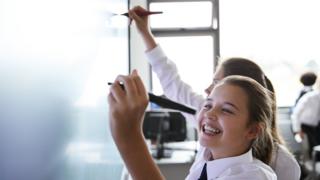 Ofsted is urging a new judgement-free approach for schools which have been stuck for many years on poor ratings.
It said the 410 "stuck" schools in isolated areas of England needed extra support, not to be inundated with unsuccessful improvement schemes.
Chief inspector of schools Amanda Spielman said a new non-judgemental approach was needed, offering the schools tailored support.
Heads said being stigmatised by blunt judgements made their jobs harder.
Marking quite a shift in its approach, Ofsted wants to offer such schools targeted assistance following more thorough and detailed inspections that are not tied to any judgement.
It is the kind of approach that head teachers have called for for decades, with the impact on schools of negative Ofsted judgements a big part of educational folklore.
Ofsted says so-called stuck schools, that is those that…


Source news bbc.com, click here to read the full news.