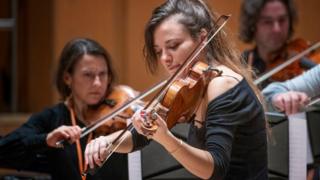 Violinist Nicola Benedetti has launched her own educational music programme for children in Glasgow.
More than 350 youngsters travelled from across the country to the city's Royal Concert Hall to take lessons from one of Scotland's most recognisable musicians.
The event is part of a series of workshops being staged across the UK.
The Ayrshire-born classical musician won the BBC Young Musician of the Year award in 2004 at the age of 16.


Source news bbc.com, click here to read the full news.