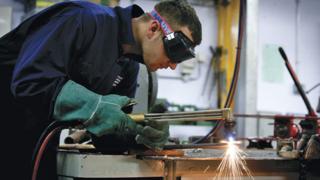 Half of apprenticeship courses in England have been accused of being "fake" by an education think tank.
The EDSK report says the apprenticeship levy – paid by big employers – is being used on low-skilled jobs or relabelling existing posts, rather than training.
Tom Richmond, the think tank's director, said the apprenticeship scheme was "descending into farce".
But a Department for Education spokeswoman defended apprenticeships as becoming "better quality".
The apprenticeship levy is paid by large employers, who contribute 0.5% of their salary bill into the training fund.
But since 2017, the report claims £1.2bn from the levy has been spent on jobs "offering minimal training and low wages" or on "rebadging" jobs already offered by employers as apprenticeships.
In its first…


Source news bbc.com, click here to read the full news.