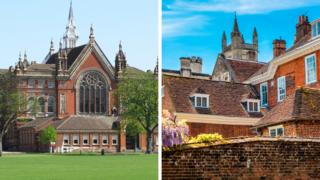 Two top English private schools have defended their decision not to accept a benefactor's offer of scholarships for disadvantaged white boys.
Winchester and Dulwich colleges have declined the offer – reported to be worth over £1m – by a former pupil from both, Professor Sir Bryan Thwaites.
The schools say they do not want to put ethnic restrictions on who can benefit from financial help.
Sir Bryan says he is now looking for state schools to accept his offer.
The philanthropist, who is 96 and plans to leave the funds in his will, attended Dulwich until the start of the Second World War, and then went on to Winchester.
His parents could not have afforded the…


Source news bbc.com, click here to read the full news.