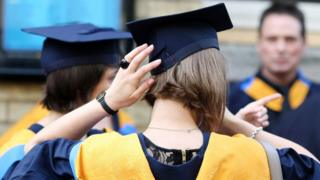 The government is promising an overhaul of how graduates are able to access their student loan accounts online.
A new online repayment service will launch in 2020, offering graduates more up-to-date balance information, the Department for Education said.
The move aims to modernise the Student Loans Company (SLC) repayment system.
Education Secretary Gavin Williamson said the changes would make it easier for students to "understand their balance" and "manage their loan".
To prevent overpayments, the government is also urging graduates to switch from salary deductions to direct debit towards the end of their loan.
Student loan overpayments of £28m going unclaimed
'Student finance left me broke'
Universities minister Chris Skidmore said: "With more and more people enjoying the benefits of a university education, it's only right that graduates have easy…


Source news bbc.com, click here to read the full news.