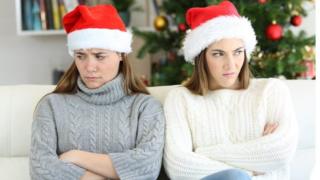 From the Christmas Eve inter-sibling skirmish to reverting to your teenage self and scrapping over the TV remote on Christmas Day, the annual festivities all too often put family relationships on edge.
So, when the weather outside is frightful, how do you keep home life delightful and stop the Christmas spirit turning sour?
1. Ease the Christmas crush
Going home for Christmas is great – but when you get there, will you be sleeping in your old teenage bedroom – maybe along with your partner and kids?
"Even if we're busy at work or at home, we have time alone don't we?" says Relate counsellor Dee Holmes.
But at Christmas people are often "forced too…


Source news bbc.com, click here to read the full news.