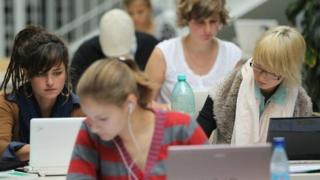 A record one in four university applicants received a "conditional unconditional" offer this year, figures from admissions service Ucas show.
But despite the rise in these offers, future degree students are now less likely to accept them, Ucas says.
Conditional unconditional offers give students a place – regardless of their A-level grades – on condition they make the university their firm first choice.
Critics say they encourage students not to work hard to get the best A-levels.
The latest Ucas figures show a quarter (25.1%) of 18-year-old university applicants from England, Northern Ireland and Wales – 64,825 students – received a conditional unconditional offer in 2019.
This is up 4.2 percentage points on 2018, from 20.9% (53,355 students).
Huge rise in unconditional uni offers
Unconditional offer students 'more likely to drop out'
Overall,…


Source news bbc.com, click here to read the full news.