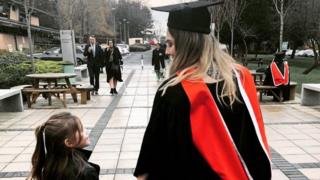 A mum who was forced to leave school after getting pregnant aged 14 has fulfilled her dream of graduating with her "smiling" daughter watching on.
Six year-old Lily-Rose was "grinning from ear to ear" as she watched her mother Rachael Campey receive a degree in counselling psychology.
Miss Campey, 21, from Leeds, said the education system "gave up" on her when she became pregnant.
She said: "Everything I've worked through has been for Lily."
'That's my mummy'
Miss Campey, who graduated on Wednesday from Leeds Trinity University, said the ceremony was "really emotional".
"Lily was just grinning at me and said I looked like someone off Hogwarts," she said.
"They accidentally pronounced my surname…


Source news bbc.com, click here to read the full news.