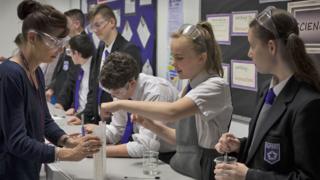 The Conservatives are promising to strengthen England's education watchdog Ofsted, as they attack Labour and Liberal Democrat plans to replace the current inspection system.
Prime Minister Boris Johnson is announcing plans for longer inspections and an extra £10m funding for Ofsted.
There will also be trials of "no-notice inspections", where schools could be visited without any prior warning.
But Labour and the Lib Dems want to replace Ofsted with different bodies.
Head teachers say the idea of no-notice inspections has been proposed and rejected as impractical so many times before that it is "flogging a dead horse".
No-notice inspections
The Conservatives are setting out a clear dividing line in their policy on schools – calling for a bigger role for Ofsted while opposition parties are moving in the opposite direction and wanting to close it…


Source news bbc.com, click here to read the full news.