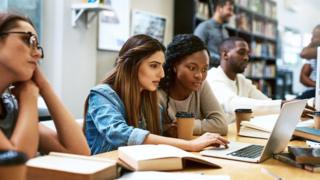 Nearly half of young people were given a place at university this year with A-level grades lower than the advertised entry requirements, new figures show.
The admissions service, Ucas, says 49% of 18-year-olds in England, Northern Ireland and Wales, who sat at least three A-levels, were accepted with lower grades than those advertised.
Universities generally advertise grade requirements on their websites.
Disadvantaged students were more likely to take up places with lower grades.
In its end-of-cycle report for 2019, Ucas says that 60% of applicants from the fifth most disadvantaged backgrounds were accepted on to courses with A-level grades below the advertised requirements.
This may be due to "contextualised offers", where institutions take into account factors that can restrict a student's achievement at school.
"Findings from the 2019 cycle…


Source news bbc.com, click here to read the full news.