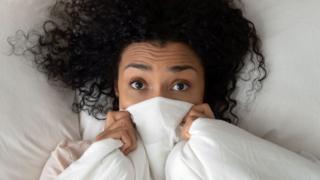 If you had a bad dream last night, it might have a positive benefit – because research suggests being scared while asleep helps to control fear during the waking hours.
University researchers in Switzerland and the United States examined how the brain responded to types of dream.
They found bad dreams improved the effectiveness of the brain in reacting to frightening experiences when awake.
But really terrifying nightmares were found to have a negative impact.
The neuroscientists, from the University of Geneva, the University Hospitals of Geneva in Switzerland and the University of Wisconsin in the US, have suggested that dreams could be used as a form of therapy for anxiety disorders.
Dreams 'prepare for real-life danger'
The study looked at whether bad dreams – which are moderately frightening rather than excessively traumatic – might serve a…


Source news bbc.com, click here to read the full news.