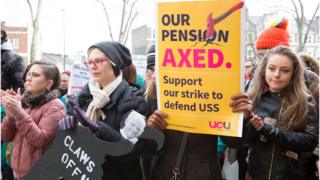 Students across the UK face disruption as lecturers and support staff in 60 universities start an eight-day strike.
Members of the University and Colleges Union (UCU) are taking action in two separate disputes, one on pensions and one on pay and conditions.
The strikes will affect almost half of all UK universities.
The universities say strikes are not the way forward and promise to do all they can to minimise the impact of industrial action on students.
In addition to striking, union members will begin other forms of industrial action when they return to work, including working strictly to contract, not covering for absent colleagues and refusing to reschedule lectures lost during the strikes….


Source news bbc.com, click here to read the full news.