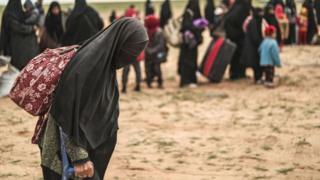 A group of orphaned British children caught up in the war in Syria have returned to the UK.
The children, who are all from one family, are the first to be repatriated from the area of Syria once controlled by the Islamic State (IS) group.
The Foreign Office was asked by the High Court to help them return.
The court heard they arrived in London on Friday and were in good spirits, having met with members of their family who they had breakfast with.
They were brought back to the UK at the request of relatives after they were made wards of court – meaning they were placed under supervision and protection of the High Court.
The judge said it had been a complex and difficult operation.
Mr Justice Keehan said the children had now gone to their family homes where they appeared settled and as happy as possible in difficult circumstances.
Their return comes…


Source news bbc.com, click here to read the full news.