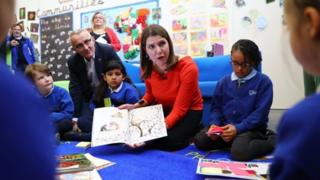 The Lib Dems have promised to recruit 20,000 more teachers in England and spend billions more on schools if they are elected to government.
The party, which will launch its manifesto later, says it will reverse school cuts with an "emergency cash injection" of £4.6bn next year.
The extra funding would rise to £10.6bn by 2024/25 compared to 2019/20, under their plan.
The party is also promising to widen access to free school lunches.
They plan to spend an extra £1.1bn per year on meals for every primary school child, and secondary school children whose families receive universal credit (UC).
Since 2018, children in school year three or above from families on UC have qualified only if the family's annual employment income is less than £7,400.
The anti-Brexit party says £10bn will be taken from what they claim will be a £50bn "Remain bonus" from…


Source news bbc.com, click here to read the full news.