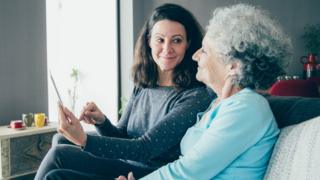 Women can expect to take on caring responsibilities for an older, sick or disabled relative more than a decade earlier than men, a report concludes.
Research by Sheffield and Birmingham universities shows half of women will care by the age of 46, compared with half of men, for whom the age is 57.
The research suggests two-thirds of UK adults can expect to become an unpaid carer during their lifetimes.
The charity Carers UK says carers need five-to-10 days of paid care leave.
For the charity's report – Will I Care? – the academics analysed data from individuals who had participated in both the British Household Panel Survey and Understanding Society social and economic study for more than 15 years between 1991 and 2018.
Their findings showed 65% of adults had provided unpaid care for a loved one.
Women had a 70% chance of becoming a carer and men…


Source news bbc.com, click here to read the full news.