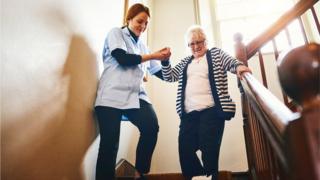 The care system helps older and disabled people with day-to-day tasks like washing, dressing, eating and medication.
It is under pressure across the UK after past governments failed to reform or fund the council-run system properly.
Experts believe the problems are now so acute that politicians who ignore the issue at this election, do so at their peril.
The system is devolved across the four nations, meaning parties need to develop solutions unique to their region.
1. Thousands fewer receiving care
Unlike the NHS, social care is means-tested. To receive help from your local authority, you must have a very high level of need and, in England and Northern Ireland, savings and assets of less than £23,250; in Wales, the threshold is £24,000. Scotland operates a different system.
Since 2010, the number of older people asking for council help has…


Source news bbc.com, click here to read the full news.