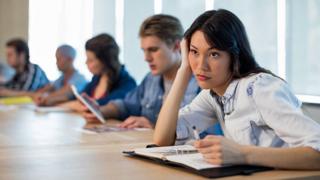 Meetings at work should be seen as a form of "therapy" rather than about decision-making, say researchers.
Academics from the University of Malmo in Sweden say meetings provide an outlet for people at work to show off their status or to express frustration.
Professor Patrik Hall says they are becoming increasingly frequent – as more managerial and "strategy" jobs generate more meetings.
But he says despite there being more meetings "few decisions are made".
Prof Hall has investigated an apparent contradiction in how people can have a low opinion of work meetings, yet their numbers keep increasing.
Looking for a purpose
The political scientist says the rise in meetings reflects changes in the workforce – with fewer people doing and making things and an increase in those involved in "meetings-intense" roles such as strategists, advisers, consultants…


Source news bbc.com, click here to read the full news.