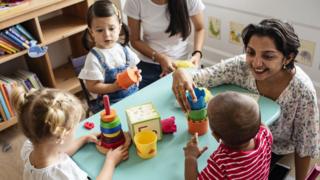 Both Labour and the Lib Dems have pledged extra money to support the parents of young children.
Labour vowed to spend £1bn on opening 1,000 new early years centres in England, saying they would get parents back to work and help children achieve.
The Lib Dems are promising working families subsidised care for children from the age of nine months.
Lib Dem education spokesperson Layla Moran said the £14.6bn policy was "an investment in the country's future".
The Conservatives say they are already "investing record amounts in high-quality childcare".
Childcare providers have expressed scepticism at the lack of funding details and warned of an "electoral arms race" on childcare promises.
On a visit to Leeds with shadow Labour education secretary Angela Rayner, Mr Corbyn will promise to open a new generation of Sure Start centres, which provide health,…


Source news bbc.com, click here to read the full news.