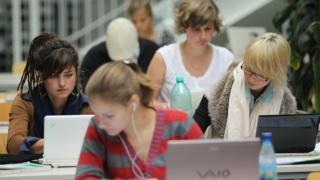 Universities in the UK are failing to recognise the seriousness of interference from autocratic countries overseas, a report by MPs says.
The Foreign Affairs Committee warns of a threat to academic freedom, in a report highlighting concerns about the influence of China.
But government advice about the risks has been "non-existent", say MPs.
Tom Tugendhadt, who chairs the committee, called for a defence of "hard-won liberties".
The cross-party House of Commons committee says the government and universities have failed to respond to "mounting evidence" of "autocratic states" trying to undermine academic freedom.
'Financial pressure'
Autocracies are using "financial, political and diplomatic" pressure to try to influence what is taught, researched and discussed on university campuses, it says.
There are more than 100,000 students from China in the UK,…


Source news bbc.com, click here to read the full news.