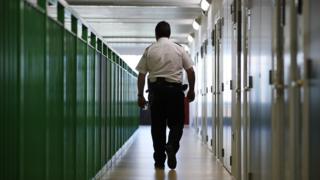 Dozens of prisons across England and Wales are failing to operate emergency telephone lines to help prevent suicide and self-harm, a report has revealed.
The research shows a hotline for relatives of prisoners to call if they have concerns about an inmate was not being answered or had not even been set up in more than one third of jails.
When there was an emergency line, most calls went to an answering machine.
The Ministry of Justice said the findings were "unacceptable".
In a statement, the MoJ pledged "immediate action" to address the problem and asked prisons to ensure that it is sorted out within the next 24 hours.
The availability of a dedicated "safer custody" telephone line for families to flag concerns about a prisoner's physical or mental health was a key recommendation in a review by Lord Michael Farmer which had been commissioned by…


Source news bbc.com, click here to read the full news.