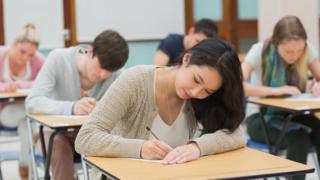 Eighteen-years-olds in England who are given unconditional university offers before taking their A-levels are more likely to drop out in their first year of degree study, research finds.
The Office for Students says 185 students, who would have been expected to continue, dropped out in the academic years 2015-16 and 2016-17.
The watchdog says its findings are a "real cause for concern".
The number of institutions offering unconditional offers has been rising.
These are offers made without specifying that the student has to achieve any particular grades.
In 2018, 67,915 were made to 18-year-olds from England, Northern Ireland, and Wales – up 65,930 from the previous five years, when just 2,985 were made.
The rise has led to concerns that universities are operating a "bums on seats" mentality, and that sixth-formers might not work as hard and get as…


Source news bbc.com, click here to read the full news.