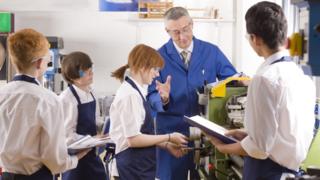 Technical schools in England have received millions of pounds in public funding but many are half full and get poorer results than other secondary schools, a government watchdog warns.
The National Audit Office (NAO) says university technical colleges (UTCs) are also less likely to be rated as good or outstanding by inspectors.
UTCs see employers and universities jointly providing technical education.
The government says they "play a role in our diverse education system".
Launched in 2010, UTCs are a type of free school and generally teach pupils aged 14 to 19,
They have a focus on giving students a technical education, for example in subjects such as engineering, science technologies and healthcare.
UTCs are publicly funded state schools but they are independent of local authorities – they must be part of an academy trust, which is a charitable…


Source news bbc.com, click here to read the full news.