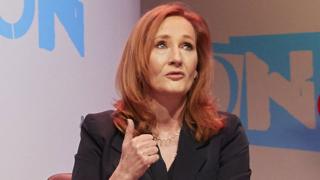 JK Rowling has told young people not to become volunteers in overseas orphanages, because of the risk that they might be unwittingly supporting places that are cruel to children.
The Harry Potter author warned that children in orphanages in poorer countries often still had parents – but they had been separated by poverty rather than the death of their parents.
"Do not volunteer in orphanages. Instead, look at what drives children into institutions," she told a conference in London.
The author set up a charity, Lumos, in response to cases of neglect in Eastern European orphanages, which is campaigning to remove children from orphanages and return them to their families.
It operates in countries including Moldova, Ukraine, Bulgaria, Colombia, Haiti, Ethiopia and Kenya.
End to 'volun-tourism'
But Rowling warned that orphanages were being given support by "volun-tourism", where young people from Western countries volunteered to…


Source news bbc.com, click here to read the full news.