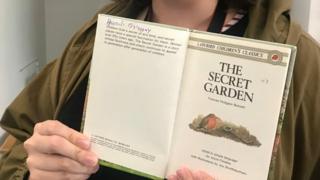 When a little girl wrote her name in hieroglyphics in a front cover, she didn't realise it would reunite her with the book decades later.
As children in Reading, England, Zoe Andrews and her sister Hannah read the English classic The Secret Garden, annotating the front cover with Hannah's name.
Eventually they outgrew the story and gave it to a local Oxfam charity shop.
Last week, when browsing in the second-hand book store of a Reading museum, Zoe, now 35, opened a copy of The Secret Garden and saw the same hieroglyphics.


Source news bbc.com, click here to read the full news.